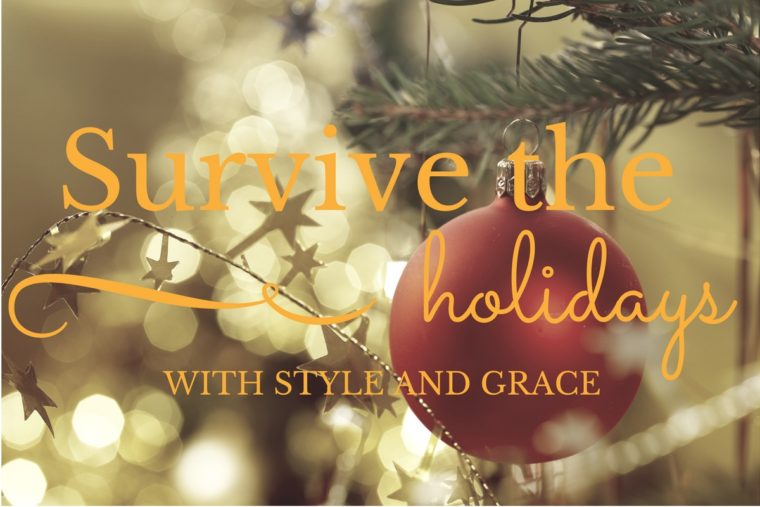 Hello, November! With a turn of the page the busiest time of the year is upon us. Although the holidays are advertised as "the most wonderful time of the year" they are usually the most stressful. Do you feel tired even reading a post about Christmas? Are you still trying to manage the Thanksgiving menu? Are you stressed out knowing the number of shopping days is dwindling rapidly? Do you find yourself resenting the mere suggestion of THINKING about shopping days? Are you more interested in making this season less busy and more enjoyable? If so, read on for practical tips on how to bring back the wonder and joy the season is meant to celebrate.
Many people around the world recognize that Christmas is the fulfillment of God's promises throughout the scriptures as summarized in John 3:16, "For God so loved the world, that He gave His only begotten Son, so that whoever believes in Him should not perish, but have eternal life."
The Lord joyfully gave His Son as a gift to us! And so, we should experience that same joy in the celebration of His birth. Unfortunately, we often experience the most tribulation during these very same months. The evil one comes to kill, steal and destroy – our faith, our hope, our joy. But the good news is that He has overcome the world through the very gift of the Christmas we celebrate!! Hallelujah!
So, how DO we not just survive, but DELIGHT in the celebration of Christmas?? Recognizing the ways we are distracted from the joy He offers is the first step. Below are six stressors that creep in to wreak havoc in our lives and steal our joy. They make us tired, grumpy, anxious and no fun to be around! Sounds like our old friends the Grinch and Ebeneezer Scrooge, right?
Acknowledging that these stresses exist and understanding how each affects you will better prepare you to combat them. Read through those listed in Step One and then spend time brainstorming ways you can reduce or eliminate them this year. Even the smallest change can make a big difference over time. Step Two includes ideas to help you really take charge of your holiday experience and make it what you desire it to be!
Step One: Identify the stressors that impact you and the ways they use up your resources.
Time Stress – During the holiday season, we have more tasks and events that take our time but no added hours. Tick tock. Tick tock.
Choice Stress – Every day in December seems to bring a wonderful opportunity to do something fun and "holiday-ish". Sometimes choosing between what you can do and what you want or need to do feels like a risky game of eeny meeny miny moe.
Financial Stress – How many times have you set a Christmas budget only to realize you've doubled or *gasp* tripled it by December 24th?!? To say that the holidays afford financial stress is no laughing matter. #pundefinitelyintended
Social Stress – Whether long-lost or bestie our friends love to invite us to celebrate with them, right? It's great to have friends, but sometimes the invitations simply increase the pressure to spend time and money doing things our resources don't allow.
Emotional Stress – Most of us have at least one family member who is a challenge to be around. Social pressure dictates that we spend holiday time with difficult people simply because they are related. The mere thought sends some people to the corner to cry.
Grief Stress – Whether our grief is recent or long-standing, the holidays usually make it bigger. We find that our favorite traditions are rife with memories of those who are no longer with us. What was once a joyous occasion has now become full of sadness that, if not addressed, can hijack our ability to feel joy.
Step Two: Use these ideas to make a plan to reduce your stress and enjoy the Season!
Be intentional – You get to decide how you will spend your available resources. Considering which areas of stress are most predominant for you, decide how you will spend your time, money and energy this year. Remember, whatever you say "yes" to means you are saying "no" to something else.
Create and protect cherished holiday traditions – What is your favorite tradition(s)? What brings you back to remembering the reason for the season? Plan your time, energy and money around enjoying a few of your most favorite traditions instead of every one that presents itself. #sopunny
Decide what's most important and focus your energy there – How can you simplify your life during the holidays? What can you temporarily eliminate to make room for festivities and celebrations? Just like a financial balance sheet, all categories must equal zero. Spending more time, money or energy than you have puts you in the red.

Answer these questions: What will I spend my available time on this year? How much money will I budget and how will I spend it? Who will I make a point to spend time with this year?

Put it in writing – Making lists, written budgets and event calendars that you can refer to often will keep you on track throughout the season.
Take care of yourself – Give yourself plenty of margin to recover from long days, exhausting small talk and late nights of baking cookies and wrapping gifts. Be sure to incorporate time into each day to decompress. Ask for help when you need it. Cramming your schedule full is a sure way to make you crazy. If you don't have ANYTHING to give, you don't have anything to GIVE.
Although there are many more ways to reduce stress and enjoy the holidays for the celebration they are, these will give you a good start. Want more? Are practical worksheets and step-by-step formats your jam? I have just the thing for you ~ download tools to help you work through each of these steps at www.erinkrobison.com/holidays. Then, watch your inbox for more suggestions on how to manage those six stressors this year.
What are ways you reduce stress during the busy holiday season? Are there other stressors I didn't mention that you have to deal with? What's your favorite holiday tradition?
"And an angel of the Lord suddenly stood before them, and the glory of the Lord shone around them; and they were terribly frightened. But the angel said to them, 'Do not be afraid; for behold, I bring you good news of great joy which will be for all the people; for today in the city of David there has been born for you a Savior, who is Christ the Lord. This will be a sign for you: you will find a baby wrapped in cloths and lying in a manger.' And suddenly there appeared with the angel a multitude of the heavenly host praising God and saying, 'Glory to God in the highest, And on earth peace among men with whom He is pleased.'" ~ Luke 2:10-14