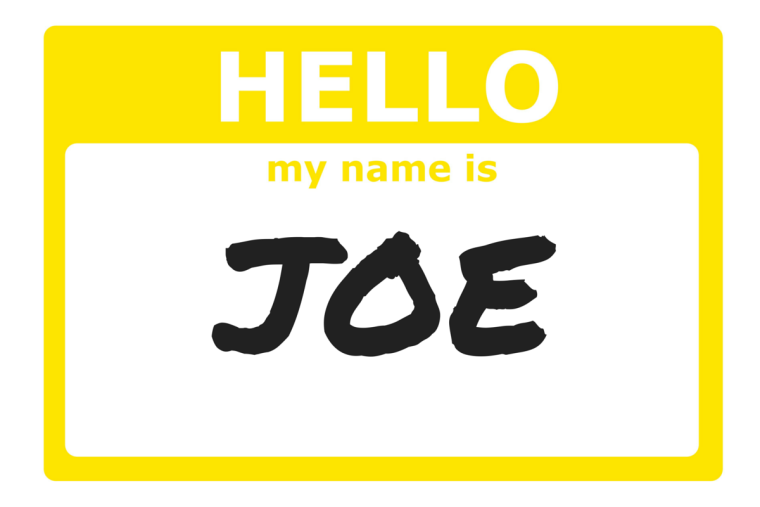 When I was about 15 years old, I went to the hardware store with my father. As we were checking out, I took note of my dad's farewell, "Thank you Joe. Have a great day!" As we walked away, I asked, "Dad, do you know him?" "No." "Then how do you know his name?" I asked the question with the annoyance of the teenager who thinks everything her father does is another attempt to embarrass her personally. And my dad spoke to EVERYONE. BY NAME. ALL THE TIME. ARG! I had had enough. He needed to know how ridiculous and unnecessary his behavior was. It was my turn to school him.
My dad's answer to my question? "It was on his name tag. And it feels good to be called by name. Like we really matter." Bam! Pivotal life moment.
I realized that my dad was right. Being called by our name holds more power than we can explain. In the past 30 years I have experienced it's power over and over again: from the high school counselor who regularly announced my name at awards programs as ERN, to the doctor who had his nurse rewrite my chart because he noticed I had spelled it differently. I have a hard name. People have been mispronouncing and misspelling it my entire life. Erin is not well known as a girl's name and therefore difficult to pronounce, spell and identify gender. And Robison really does people in. Even when someone recognizes it doesn't have an "n" in the middle, they can't seem to wrap their head around correct pronunciation. So the person who gets it right, wins major points with me.
That day in the hardware store, my father's words hit a nerve. Not the annoyed "nobody ever gets my name right" kind of nerve, but the, "hey, that really is true" kind. It was the spark that would eventually change the way I interact with people.
Fast forward to college. At a school of 45,000 students, involvement is what keeps you from being just a number. So making my first student organization one with over 300 members was an exciting but daunting experience. However, when Greg Flynn greeted me by name, I fully grasped the power of his words. Greg was a name guy. He met hundreds of people every month and knew their names forever. It is what made him like-able, approachable and kind. I can close my eyes and experience that moment like it was yesterday. "Hey Erin! So glad you are here!" My intimidating new world just got a lot smaller. And when he continued to do the same for EVERY member he encountered, I remembered, and most importantly, experienced my dad's words. And their power.
The third, and ultimately life changing, event happened a year later. Our application for Orientation Leaders included a recent picture. I don't remember if we were interviewed or not. But when I was accepted and attended the first mixer to meet the other members, every Exec welcomed me by name. I discovered later that they had spent the semester memorizing our names and faces using those pictures. All 350 of us. That was the lynch pin for me.
I have carried each of those experiences with me for the past 25+ years. But more than that, I have incorporated the lesson into the way I live my life. In doing so, I have continued to see first hand the power of being called by name. The number of times a cashier has looked at me with surprise and curiosity, when greeted by name, is too many to count. And the looks of pleasure and affirmation that replaced the surprise are equally numerous.
I have discovered that to call someone by their name creates a connection in a unique way. The customer service representative who changes their tone and goes the extra mile, simply because I humanized them and made them feel important. The child who is amazed that I can remember their name out of 800, when I all I did was surreptitiously read the tag hanging from their shirt. The homeless man on the corner whose eyes light up when I, probably the first person in hundreds, ask his name. These people are forever changed by such a simple thing. I know because I have experienced it. By my own right and in their presence.
Shakespeare says, "a rose by any other name would smell as sweet", suggesting it matters not that Romeo is a Montague and Juliet a Capulet. While that may be true for his purposes of star-crossed love, I think that names are of the utmost importance.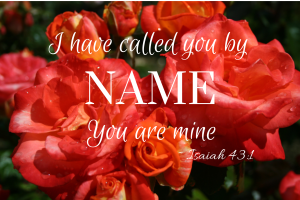 The scriptures say, "I have called you by name. You are mine." ~ Isaiah 43:1 The Redeemer of Israel, the One who created us, who knew us before the world was made, knows our name. He calls it. We are His children.
When I was working in the schools, I would say to my students, "If I call you "kid" or "student", how does that feel?" You can imagine the giggling responses. "Ms. Robison, you wouldn't do that!" Taking the time to learn and remember someone's name is one of the greatest kindnesses we can pay.
So, I'm a name guy, er, gal. I am blessed with a good memory, but I have also learned how to do this well. What about someone who has a hard time remembering names? Notice, I didn't say can't. That word doesn't apply. We can and do things that matter. Just because it is important to me and I teach it and I have a pretty good memory doesn't mean I am perfect. But I have found ways to help, because I think it makes a difference.
1. Visualize their name when they say it. I'm a visual learner. And I find that if I know how to spell a name, I am much more likely to remember it. "But what if his name is John?" Hello, we live in a world FULL of creative spellings. So, said with genuine interest, the following always works: "How do you spell your name? Oh, the traditional way! (insert chuckle) Does anyone ever spell it wrong or just me? You never know anymore with so many creative parents out there…." See how such a simple question turns into a fun conversation? That alone will help you the next time you see John. By the way, I know someone named Mykl (Michael). #creative
2. Write it down. If you know you will run into this person later, take a minute to write down their name. With a smart phone at hand, you don't even have to carry a pen. I have a list inside my kitchen cupboard with all the apartment numbers in my stairwell. When I meet a new neighbor, I simply write their name next to their number. And periodically I reference my list. Its amazing how quickly you can break through barriers by greeting your neighbor by name.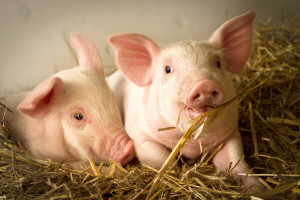 3. Associate. My little nephew thought Ms. Peggy said "oink, oink". No, IP, not Ms. Piggy. But you can guarantee my sister will never forget Ms. Peggy's name! Or, Lisa Marie, "thank you! thank you very much!" Elvis never goes out of style. Create associations for names you need to remember.
4. Use the alphabet. Remember the spelling visualization tip I mentioned? When I'm having trouble remembering a name, I simply focus and work through the alphabet. This is a fool proof trick. You have to concentrate on each letter and allow your brain to tell you if that letter feels right or not. If I get to the right letter and can't remember the name, I start thinking of names that begin with that letter. You can train your brain to do this. "A? B? C?…"
What about those dreaded moments when you can't remember the name of someone you have already met? Try these tips.
1. Introduce yourself, again. Chances are they don't remember your name either. "Hey, my name's Erin, by the way. I know it's hard to remember everyone you meet." Nine times out of 10, you will see a relieved expression and they will tell you their name again, too. And if they don't, just graciously ask. Don't be the guy on the 6th floor calling Chandler "Toby" for three years because you were too embarrassed to get the facts straight. That never ends well. #alwaysarelevantFRIENDSreference
2. Enlist your wingman. If you forget the guy's name, introduce your friend first. "Hi! This is my friend, Emily." Sometimes there will be an awkward pause before said guy will then follow suit and introduce himself. If that's the case, you apologize for being so rude, "Oh goodness, I'm so sorry! Where are my manners?!" But usually they will swiftly make the introduction and you have covered your own forgetfulness.
3. Create a plan beforehand. My friends with whom I wander about town have been instructed that if I don't introduce them to a new person, that ALWAYS means I've forgotten their name. This is their cue to introduce themselves and let me take the fall for being so gauche. "I'm sorry, I thought you knew each other" or "Good grief, what is the matter with me?!" Which is another point – ALWAYS introduce people to each other. Don't assume they have met OR they remember each others names. Miss Manners wrote the book on this necessary and oft forgotten social grace.
Years ago I knew a guy. I hung out with him at work events and through a close mutual friend, over the course of several years. After not having seen him for a few years we ran into each other again. "Hey Jeff! How are you? What have you been up to?" At the end of the conversation he said, "I'm sorry. What's your name again?" Not cool, dude. This is when you wait and ask the mutual friend, who happens to be standing nearby, what my name is. I would have done better never knowing he had forgotten my name. What it communicated to me was that I wasn't important. I'm sure that's not what he intended, but nevertheless, that was the result.
We do what is important. We make time for things we value. None of us is perfect. But we all have the capacity to learn new things and treat others with kindness.
What little ways have you been impacted by others, as I have by names? What habit have you adopted because you see how much it blesses other people? When did someone remember you name and it has stayed with you since?